Outstanding Landscape Design
A good Design is the key to creating a garden that you dream of and we will transform your ideas using our experience and design skills. We will create plans and perspective drawings of your garden so that you can be confident that we are fulfilling your expectations. You can see examples of our design work in our Design Gallery. Our design process is described below.
Initial Client meeting
After your enquiry we will arrange to come and meet you to discuss your requirements, ideas and aspirations for your garden. We will look at the site and agree on the brief and scope of design work. A fee proposal will then be sent to you that outlines the garden design process and fee, this will always vary depending on the site and scope of works required.
Site survey
A site analysis and site survey will then be carried out. The site analysis takes into account the opportunities and constraints of the site including orientation, ecological, environmental factors and the site character and context.
Sketch design
Sketch plans can be drawn to give alternative options, this is useful to explore different ideas and solutions for the design that can be discussed with the client. The preferred design will form the basis for the concept plan.
Concept plan
The concept plan will show the layout of the proposal and will include colour plan of garden drawn to scale showing landscaping features with annotations. We will also provide:
perspective drawings to show how the garden will look when complete
list of suggested plants and materials to be used in the garden
image board showing design ideas
section and elevation drawings if required
Cost estimate
An initial cost estimate will be provided to give a general idea of costs, a final cost estimate for works will be provided on the completion of the approved scheme for construction.
Presentation of design work
We will meet to discuss and present the work to you for your comments and approval both after the completion of concept design and pre construction
Detailed design
As we are a design and build company we can offer two options at this stage. For design and build schemes we will provide construction drawings for bespoke items only and setting out and levels plans. Our landscape construction team under the supervision of Chris and in close collaboration with our design team are very capable of creating highly detailed and finished schemes. We can also provide construction drawings in Auto CAD and specification for tender purposes if required.
Planting Plan
We consider planting design to be an important and integral part of the scheme, and has become our company trademark. A full planting scheme can be designed on request, a cost can be given for this work once the concept design is complete and the extent of the planting is known. We prepare planting plans, formal and informal, native and ornamental to suit the planting requirements. The planting character and style requirements of the client are taken fully into consideration in this process.
Construction works and supervision
We have a team of highly skilled craftsmen including stone walling and timber work. We pride ourselves on highly detailed and well constructed work built on budget and within the timescale. The work is overseen by Chris and the design team.
Maintenance
Maintenance plans can be provided on request and our maintenance team are more than happy to carry out the work.
Why not look at some examples of our landscape design work in our Design Gallery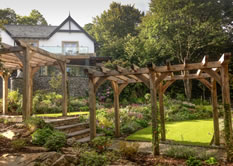 Creating beautiful gardens, inspired by nature since 2002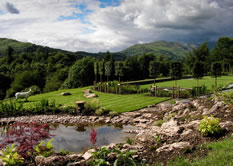 Collections of photographs from our recent landscape projects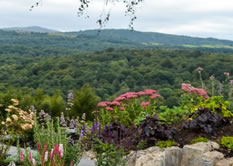 Find out more about how we create and maintain landscapes to inspire